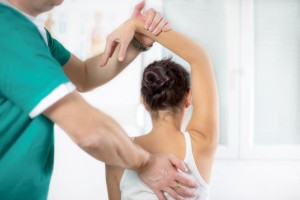 Physiotherapists are regulated health care providers that are highly educated in physical medicine. Physiotherapists are qualified to treat the body's movement systems and prescribe therapeudic exercise to sustain improved mobility.
Naturopathic doctors use different forms of care, including the following:
Electro-acupuncture and modalities.
Appropriate referrals to medical doctors or other alternative health care providers are also made, when necessary.
Manual Therapies
These may include a variety of manual techniques like mobilization.
Exercise Medicine
Exercise protocols are a key part of physiotherapy care at Downsview Chiropractic. They may include body re-positioning, posture retraining, strengthening, or general conditioning.
Lifestyle Counseling
This area of physiotherapy focuses on building a strong connection between the body and mind. The bio-psycho-social model is particularly important with chronic pain management. Lifestyle counseling can go much deeper; focusing on things like stress management, meditation, and general life coaching.
Lifestyle counseling may also include education in proper body mechanics, and techniques to prevent re-injury.
Electro-Acupuncture 
This has many similarities to traditional acupuncture with the advantage that no needles are used. In North America, it has been studied for a number of conditions, including pain relief and relief of muscle spasms. Modalities include a large number of other technologies that are used for pain management and to promote healing.
Contact Downsview Chiropractic
If you would like to learn more about physiotherapy with Downsview Chiropractic, please give us a call. Whether you have a specific problem you'd like to correct, or would simply like to live a more balanced life, contact us today and start living a more stable, healthy life.